Academy members join the CYBB!
Many congratulations to two members of our Academy who successfully passed their audition for membership for The Cornwall Youth Brass Band. Sam and Morgan will be joining existing members Siana, Mo, Elliot and Reuben bringing our tally to six.
We are immensely proud of them all and as far as we are aware this is the largest contingent from Lanner ever represented at our County Youth Band.
Their first performance will be at the CBBA Festival of Brass being held at St Michael's Church, Newquay on 3 February. Both our Senior Band and Academy Band are also performing, a very busy day for some. Please do support this event…..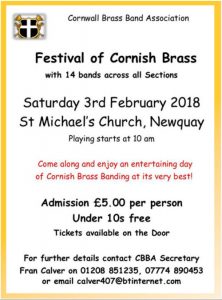 Tags: CYBB